"If we hadn't done it, we wouldn't be around today"
So said one of the biggest names on the High Street after rolling out Accelerator, our tailored eLearning suite, to every one of its stores. It's the best example yet of the return on investment that a carefully-structured learning programme can deliver.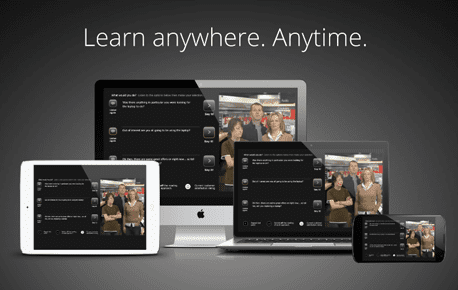 Accelerator runs on any device and integrates with existing Learning Management Systems, presenting delegates with simulated real-life scenarios relevant to the retail environment in which they work. Bespoke, high-quality video and nuanced dialogue derived from real customer interactions provides an environment in which staff can build retail skills without the fear of failure.
Plus, as the video and audio selected for each step is determined by the trainee's previous actions, they can follow multiple paths through the course to better understand likely outcomes.
The appeal of Accelerator
Our client was looking to shake things up after close to a hundred years of brand-building, growth and expansion. It had been refitting its stores, while putting the staff through classroom sessions, drilling them on a new routine. The only thing that was lacking was a means to assess what they'd taken in.
Role-play within the teams was seen as unproductive, and 'practising' on the sales floor could easily have led to lost sales, so it asked The Creative Engine to come up with something more effective.
We aren't a traditional 'elearning' company – and that's something we pride ourselves on. We've seen too many face-to-face trainers get themselves stuck in a rut, falling back on slides and dry quizzes in an effort to teach an in-depth course in the least amount of time.
Accelerator was the obvious answer as it guaranteed that every staff member would follow exactly the same training routine. That was a first – and so was what went on behind the scenes.
Delivering meaningful feedback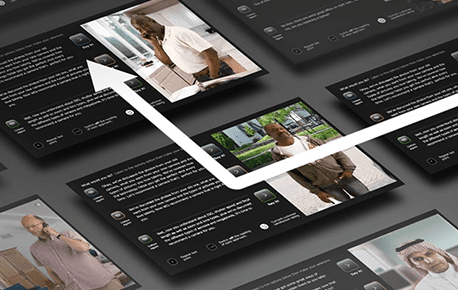 As staff worked their way through the courses, Accelerator logged each participant's responses, compiling detailed performance data for later analysis. This revealed which staff were struggling in specific areas – such as customer approaches, or closing a sale – so that store managers could address those issues in isolation, both saving time and helping them to hit their monthly targets.
The staff were immediately engaged, with at least a fifth of them voluntarily working through the course more than once. Even more remarkable, the flexible, online implementation meant they were doing so in their own time, so their working hours were left free to staff the shop floor.
Clients are coy in every industry when asked about ROI. That's only to be expected. But when one admits that it wouldn't even be there if it wasn't for its investment in eLearning, you can be sure it was money well spent.
Accelerator is the perfect tool for training any staff who interact with potential customers – on the phone, online or in person – and not just in retail.
Want to discuss a project?
We're ready when you are